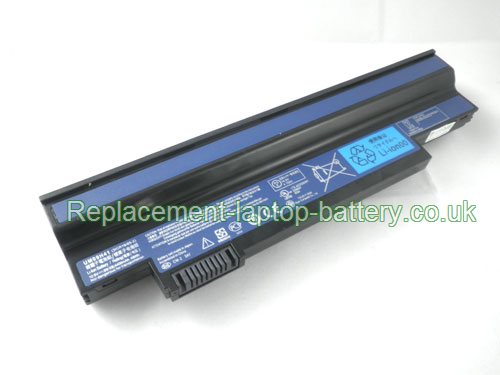 Click here to enlarge
New, Long life, 1 Year Warranty!
Low Price, 30-Days Money Back!
Shipped Out The Same Day or The Next Day
Fast delivery by Royalmail / HDNL in UK
Welcome Wholesale this battery

ACER UM09H31, UM09H36, UM09H41, Aspire One 532h Battery
Battery Type: Li-ion
Battery Voltage: 10.8V
Battery Capacity: 4400mAh
Battery Color: Black
Note: NOT Fit aspire one 531h, D250, D150, 751h, A150, A150 Series
Original price:

£ 45.95

Special Price:

£ 32.13

( Updated: Jan 2018 )
* Please ensure the product(s) that you are going to buy fits the brand, model and part number of your device.
This Laptop Battery Description:
* This item ( UK ACER UM09H31, UM09H36, UM09H41, Aspire One 532h Battery ) can be fast shipped to all the UK Address: London, Birmingham, Leeds, Glasgow, Sheffield, Bradford, Edinburgh, Liverpool, Manchester, Bristol, Wakefield , Cardiff, Coventry, Nottingham, Leicester, Sunderland, Belfast, Newcastle upon Tyne, Brighton, Hull, Plymouth, Stoke-on-Trent, Wolverhampton, Derby, Swansea, Southampton, Salford, Aberdeen, Westminster, Portsmouth, York, Peterborough, Dundee, Lancaster, Oxford, Newport, Preston, St Albans, Norwich, Chester, Cambridge, Salisbury, Exeter, Gloucester, Lisburn, Chichester, Winchester, Londonderry, Carlisle, Worcester, Bath, Durham, Lincoln, Hereford, Armagh, Inverness, Stirling, Canterbury, Lichfield, Newry, Ripon, Bangor, Truro, Ely, Wells, St Davids ..... by Royalmail.

You can tracking your package here : Tracking order >>

Compatible mainbody Numbers:
ACER
BT.00303.020, BT.00303.021, BT.00304.008, BT.00305.013, BT.00307.029, BT.00307.030, BT.00307.031, BT.00603.107, BT.00603.108, BT.00603.109, BT.00604.047, BT.00605.058, BT.00605.059, BT.00605.060, BT.00607.115, BT.00607.119, LC.BTP00.117, LC.BTP00.121, UM-2009G, UM-2009H, UM09C31, UM09G31, UM09G41, UM09G51, UM09G71, UM09G75, UM09H31, UM09H36, UM09H41, UM09H51, UM09H56, UM09H70, UM09H71, UM09H73, UM09H75,
GATEWAY
UM09G31, UM09H31, UM09H36, UM09H41, UM09H56, UM09H70, UM09H71, UM09H73, UM09H75, .
Fit Machine Model: Acer
Aspire one 532G all Series, Aspire One 532h, Aspire One 532h-21b, Aspire One 532h-21r, Aspire One 532h-21s, Aspire One 532h-2223, Aspire One 532h-2226, Aspire One 532h-2730, Aspire One 532h-2964, Aspire One 532h-2Db, Aspire One 532h-2Dr, Aspire One 532h-2Ds, Aspire one AO532G all Series, Aspire One AO532h-21b, Aspire One AO532h-21r, Aspire One AO532h-21s, Aspire One AO532h-2223, Aspire One AO532h-2226, Aspire One AO532h-2730, Aspire One AO532h-2964, Aspire One AO532h-2Db, Aspire One AO532h-2Dr, Aspire One AO532h-2Ds,
Emachines Em350 Series
eM350 series, eM350-2074,
Gateway Lt21 Series
LT21 Series, LT2104U, LT2106u, LT2108U, LT2110U, LT2113U, LT2114U, LT2115U, LT2119U, LT2120U, LT2122U, LT2123U,
Packard Bell
Dot s, Dot s-510NL, Dot s/B-510NL, Dot s/P-510NL.
ACER UM09H31, UM09H36, UM09H41, Aspire One 532h Battery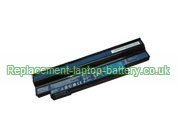 Special Price:
£ 32.13
ACER Replacement Laptop Batteries, Notebook Batteries
ACER UM09H31, UM09H36, UM09H41, Aspire One 532h Battery

* We also can ship our orders to Ireland, Austria, Belgium, Czech Republic, Denmark, France, Germany, Hungary, Italy, Luxembourg, the Netherlands, Norway, Poland, Portugal, Russian Federation, Slovakia, Spain, Switzerland, United States.