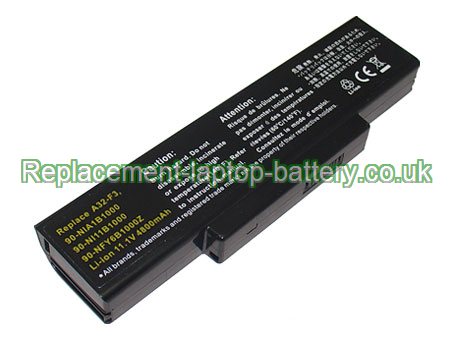 Click here to enlarge
New, Long life, 1 Year Warranty!
Low Price, 30-Days Money Back!
Shipped Out The Same Day or The Next Day
Fast delivery by Royalmail / HDNL in UK
Welcome Wholesale this battery

Replacement Laptop Battery for 4400mAh Long life ADVENT 7093,
Battery Type: Li-ion
Battery Voltage: 11.1V
Battery Capacity: 4400mAh
Battery Color: Black
Original price:

£ 45.79

Special Price:

£ 32.02

( Updated: Jan 2018 )
* Please ensure the product(s) that you are going to buy fits the brand, model and part number of your device.
This Laptop Battery Description:
* This item ( UK Replacement Laptop Battery for 4400mAh Long life ADVENT 7093, ) can be fast shipped to all the UK Address: London, Birmingham, Leeds, Glasgow, Sheffield, Bradford, Edinburgh, Liverpool, Manchester, Bristol, Wakefield , Cardiff, Coventry, Nottingham, Leicester, Sunderland, Belfast, Newcastle upon Tyne, Brighton, Hull, Plymouth, Stoke-on-Trent, Wolverhampton, Derby, Swansea, Southampton, Salford, Aberdeen, Westminster, Portsmouth, York, Peterborough, Dundee, Lancaster, Oxford, Newport, Preston, St Albans, Norwich, Chester, Cambridge, Salisbury, Exeter, Gloucester, Lisburn, Chichester, Winchester, Londonderry, Carlisle, Worcester, Bath, Durham, Lincoln, Hereford, Armagh, Inverness, Stirling, Canterbury, Lichfield, Newry, Ripon, Bangor, Truro, Ely, Wells, St Davids ..... by Royalmail.

You can tracking your package here : Tracking order >>

Compatible mainbody Numbers:
ASUS
90-NFY6B1000Z, 90-NI11B1000, 90-NIA1B1000, A32-F3, .
Fit Machine Model: Advent
7093,
Asus A9 Series
A9, A9 Series, A9Rp, A9T,
Asus F2 Series
F2 Series, F2F, F2Hf, F2J, F2Je,
Asus F3 Series
F3 Series, F3E, F3F, F3H, F3Ja, F3Jc, F3Jm, F3Jp, F3Jr, F3Jv, F3Ka, F3Ke, F3L, F3M, F3P, F3Sa, F3Sc, F3Se, F3Sr, F3Sv, F3T, F3Tc, F3U,
Asus M50 Series
M50Sa, M50Sr, M50Sv,
Asus M51 Series
M51 Series, M51-AP067, M51A, M51A-F1, M51E, M51Kr, M51S, M51Se, M51SE-AS018C, M51Sn, M51SN-B1, M51SN-C1, M51SN-X2, M51Sr, M51T, M51TA, M51TA-AP067, M51TA-X1, M51TA-X2, M51VA, M51VR,
Asus Z53 Series
Z53, Z53 Series, Z53J, Z53Jc,
Benq
JoyBook R55 Serie,
Compal
GL30, GL31,
Hasee
W750T,
Maxdata
Imperio 8100IS, Pro 6100i,
Quanta
SW1, TW3, TW5.
Replacement Laptop Battery for 4400mAh Long life ADVENT 7093,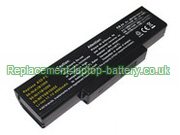 Special Price:
£ 32.02
ADVENT Replacement Laptop Batteries, Notebook Batteries
Asus A32-F3, 90-NI11B1000 90-NIA1B1000 F2, F3, M50, M51, Z53 Series Replacement Laptop Battery

* We also can ship our orders to Ireland, Austria, Belgium, Czech Republic, Denmark, France, Germany, Hungary, Italy, Luxembourg, the Netherlands, Norway, Poland, Portugal, Russian Federation, Slovakia, Spain, Switzerland, United States.