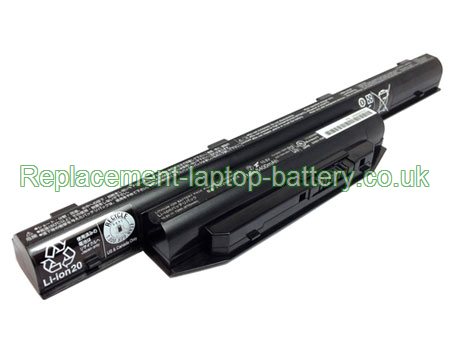 Click here to enlarge
New, Long life, 1 Year Warranty!
Low Price, 30-Days Money Back!
Shipped Out The Same Day or The Next Day
Fast delivery by Royalmail / HDNL in UK
Welcome Wholesale this battery

Fujitsu FPCBP405 FMVNBP227 Replacement Laptop Battery
Battery Type: Li-ion
Battery Voltage: 10.8V
Battery Capacity: 63WH
Battery Color: Black
Original price:

£ 118.34

Special Price:

£ 82.76

( Updated: Jan 2018 )
* Please ensure the product(s) that you are going to buy fits the brand, model and part number of your device.
This Laptop Battery Description:
* This item ( UK Fujitsu FPCBP405 FMVNBP227 Replacement Laptop Battery ) can be fast shipped to all the UK Address: London, Birmingham, Leeds, Glasgow, Sheffield, Bradford, Edinburgh, Liverpool, Manchester, Bristol, Wakefield , Cardiff, Coventry, Nottingham, Leicester, Sunderland, Belfast, Newcastle upon Tyne, Brighton, Hull, Plymouth, Stoke-on-Trent, Wolverhampton, Derby, Swansea, Southampton, Salford, Aberdeen, Westminster, Portsmouth, York, Peterborough, Dundee, Lancaster, Oxford, Newport, Preston, St Albans, Norwich, Chester, Cambridge, Salisbury, Exeter, Gloucester, Lisburn, Chichester, Winchester, Londonderry, Carlisle, Worcester, Bath, Durham, Lincoln, Hereford, Armagh, Inverness, Stirling, Canterbury, Lichfield, Newry, Ripon, Bangor, Truro, Ely, Wells, St Davids ..... by Royalmail.

You can tracking your package here : Tracking order >>

Compatible mainbody Numbers:
FUJITSU
CP645579-01, CP651527-01, FBP0297S, FMVNBP227, FMVNBP228, FMVNBP229A, FMVNBP231, FMVNBP234, FMVNBP235, FPB0297S, FPB0300S, FPB0319S, FPCBP404, FPCBP404AP, FPCBP405, FPCBP416, FPCBP426, FPCBP426AP, FPCBP429, FPCBP429AP, FPCBP434, .
Fit Machine Model: Fujitsu
LifeBook AH564,
Fujitsu Lifebook Series
LifeBook A544, Lifebook A555, LifeBook AH544, LifeBook AH564, LifeBook E544, LifeBook E554, LifeBook E733, LifeBook E734, LifeBook E743, LifeBook E744, LifeBook E753, LifeBook E754, Lifebook S904, Lifebook S935, Lifebook SH904.
Fujitsu FPCBP405 FMVNBP227 Replacement Laptop Battery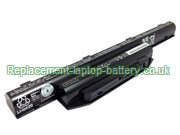 Special Price:
£ 82.76
FUJITSU Replacement Laptop Batteries, Notebook Batteries
Fujitsu FPCBP405 FMVNBP227 Replacement Laptop Battery

* We also can ship our orders to Ireland, Austria, Belgium, Czech Republic, Denmark, France, Germany, Hungary, Italy, Luxembourg, the Netherlands, Norway, Poland, Portugal, Russian Federation, Slovakia, Spain, Switzerland, United States.